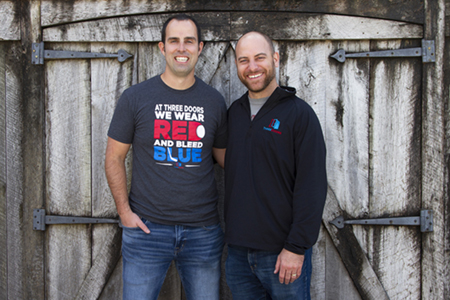 Hi!  We are Jim Manning and Ryan Wessels, two individuals who have a passion for working in the ever-changing real estate market. We have done it all – worked as agents, invested in real estate, flipped and wholesaled houses, held rental and AirBnB properties, and coached other real estate investors and agents.  We have learned throughout the years that to stay relevant in this industry, you must work together rather than apart.
Our abundance mindset has grown this business into a network that is your "Key to More in Real Estate."  Our family of agents, investors, and vendors provide endless opportunities to those looking to Buy, Sell, and Invest in real estate.  Whether that be building your investment portfolio or finding the home of your dreams, we hope you consider us for any of your real estate needs.
OUR MISSION
Three Doors Network unites, Agents, Investors & Vendors into a force for good to elevate our real estate lives and community.
OUR ADVANTAGE
Working with Three Doors means all your real estate options are under one roof.  We give you the master key to unlock more resources when you buy sell or invest.
Check out the Three Doors family in action!
Want More Information from Three Doors?
© Three Doors. All Rights Reserved.
Connect. Contact. Chat.
314-714-5356
We love to hear from you.